The presentation of Dr. Cristos Velasco's book entitled: "Jurisdiction on Crimes Committed through Computer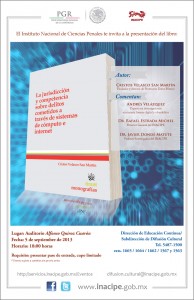 Systems and Internet" published in May 2012 by the Spanish Editorial Tirant lo Blanch will be held on Thursday, September 5 at 18:00 hrs. in Auditorium "Alfonso Quiroz Cuaron" of the National Institute of Criminal Sciences (INACIPE) in Mexico City.
The book will be discussed by:
Dr. Rafael Estrada Michel, Director General of INACIPE;
Andres Velazquez Olavarrieta, Digital Forensic Expert, Investigator and Director of MaTTica; and
Dr. Francisco Javier Donde Matute, Professor and Researcher in International Criminal Law at INACIPE.
The National Institute of Criminal Sciences (INACIPE) is located in Magisterio Nacional No. 113, Colonia Tlalpan in the heart of Tlalpan in Mexico City
Admission is free but registration is required due to the capacity of the Venue on the following link: http://servicios.inacipe.gob.mx/Eventos


There will be books for sale at a special price for those who are interested in purchasing it.
The book is also available in both, print and electronic format at the website of Tirant Lo Blanch Mexico.